Specialty Cement (GGBS) Operations
Our GGBS Business
Our outward-looking strategy since 2002 has brought us into North Asia, in particular, China followed by an investment in South Korea. Thus far, performance of our respective Ground Granulated Blast-furnace Slag ("GGBS") Joint Ventures ("JVs") in China are encouraging and continue to expand. At present, our GGBS capacity has reached 11.4 million tons per annum ("tpa") in North Asia.
We recognised the need to have a long-term presence in China and the importance of positioning ourselves in an emerging economic zone within China as well as establishing partnerships. Presently, China is enjoying enormous benefits from its continuing rapid economic development, and our investments in this transitioning market promise attractive returns.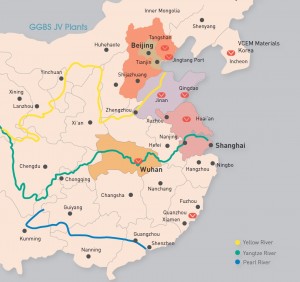 The 5 key locations of our GGBS growth
Our GGBS plants in China are located in 5 provinces, namely, Hebei province, Shandong province, Jiangsu province, Hubei province and Fujian province. These provinces form the Beijing-Shanghai corridor which has a combined population of close to 200 million people.
In Hebei province, our Tanglong GGBS plant (2 production lines with a total of 1.2 million tons per annum ("tpa") capacity) is located in Tangshan City while the TangAng GGBS plant (1 production line of 0.6 million tpa capacity) is located near Jing Tang port, which allows us to tap the export opportunities. Both Tanglong and TangAng are strategically located to access the rapidly developing Bohai Rim region; their proximity to Jing Tang port allows us to tap the export opportunities.
In Shandong province, we have 2 GGBS plants located in Jinan City, comprising of Luxin 3 production lines of 1.8 million tpa capacity. In addition, 2 production lines of 1.2 million tpa capacity have been installed in Rizhao Luxin. Besides Jinan city, we operate another 2 production lines 1.2 million tpa in Qingdao city. So it makes our annual GGBS production capacity in Shandong province to 4.2 million.
In Jiangsu province, Huailong JV targets itself to run capacity of 1.2 million tons. Relying on the strength of our partner Huai'an Iron & Steel Co. ("HuaiGang") and the expertise of EnGro in the application of GGBS, Huailong JV is all set to be a supplier to more green building projects in Huai'an. The annual production capacity of our GGBS plant in Huai'an, North Jiangsu province currently stands at 1.2 million tons.
In Hubei province, the construction Wuhan JV's production lines were completed at the end of 2011. The 1.2 million tpa production lines began operation from Q1 2012 onwards. Another 1.8 million tpa production has been signed on 2013, which will allow Wuhan Wuxin GGBS plant to achieve 3.0 million tpa production.
Located in Fujian Province, the Quanzhou Luxin plant came to being as a result of efforts by Jinan Luxin which took the initiative opportunity to grow beyond Jinan city and Shandong province. Lying 130 km north of Xiamen, the plant faces Taiwan across the Taiwan Strait. Quanzhou plant is the fifth mill operated under the wings of Jinan Luxin and is located within the Quanzhou Shage Port, a deep-sea port capable of handling 70,000-ton vessels. This facilitates the receipt of raw slag thus lowering cost, and is well placed strategically to capture a market where GGBS is in demand.
In China alone, our annual GGBS production capacity has reached 10.8 million tons. In addition, we have a GGBS JV plant in Incheon, South Korea, with an annual production capacity of 0.6 million tons. Our plants in China and South Korea will have a total combined annual GGBS production capacity of 11.4 million tons.
GGBS JV Plant
Location
Annual Production            (tons p.a)
Tangshan Tanglong Material Co., Ltd
Tangshan, Hebei Province
1,200,000
Tangshan Tang-Ang Material Co., Ltd
Tangshan, Hebei Province
600,000
Jinan Luxin Material Co., Ltd
Jinan, Shandong Province
1,800,000
Jinan Luxin Material Co., Ltd
(Rizhao Luxin Branch)
Rizhao, Shandong Province
1,200,000
Quanzhou Luxin Material Co., Ltd
Quanzhou, Fujian Province
600,000
Jiangsu Huailong Material Co., Ltd
Huai'an, Jiangsu Province
1,200,000
Wuhan Wuxin Material Co., Ltd
Wuhan, Hubei Province
3,000,000
Qingdao Evergreen Materials and Technologies Co., Ltd
Qingdao, Shandong Province
1,200.000
VCEM Materials Co. Ltd.
Incheon, South Korea
600,000
Total in Asia
 
11,400,000