Integral Cement & Ready-Mix Concrete
Singapore Cement Terminal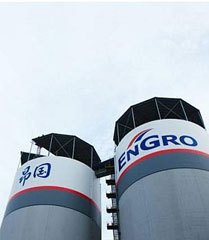 EnGro maintains its ability to service local (both bulk and bag) sales competitively via its state-of-the-art bulk terminal located at Jurong Port on Pulau Damar Laut's (PDL). The Cement Terminal is served by two dedicated berths, each with a 40,000 deadweight tonnes capacity and three sophisticated screw-type unloaders, each with a maximum rated capacity of up to 800 tonnes per hour.
The terminal has a storage capacity of 60,000 metric tonnes in two silos, – Duo-Cell and Multi-Cell configuration. All 9 cells have different storage capacities for delivery of different types of specialty cement in volume. It is designed to handle annual throughput of 1.5 million tons.
These modern facilities possess a materials receiving system, mixing plant for blending operations, bulk loading points for loading of various cements to tankers for bulk delivery, and automatic packing and palletizing systems for bagged cement operations. It's highly automated system using sophisticated Programmable Logic Control (PLC) system.
Singapore & Malaysia Ready-Mixed Concrete ("RMC") Operations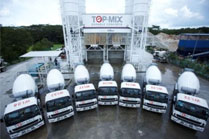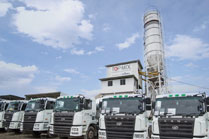 Serving as an extention to our bulk terminal operation, the RMC arm, Top-Mix ready-mix operation, is rapidly expanding to meet the strong demand in Singapore shown by the turnaround in the real estate market as well as the buoyant Singapore economy.
While we continue to strengthen our Cement and RMC business in Singapore, Top-Mix Concrete (Malaysia) operation has expanded rapidly from the acquisition in 2011 with only one dry-mixed RMC batching plant, it has since expanded to several RMC batching plants equipped with the latest computerised batching system, strategically situated at strategic locations throughout Southern Johore region. The setting-up of these batching plants were timely as it enabled Top-Mix Concrete (Malaysia) to tap on the growing development of Iskandar Development Region (IDR) which witnessed many iconic projects being launched in the last two years.
With the commitment of Malaysia government and investors' growing confidence in Johor Bahru IDR developments, we expect Top-Mix Concrete (Malaysia) to be able to expand its operations further and benefit greatly from the positive growth prospects of the IDR.
China Ready-Mixed Concreate Operations
The Group established three Joint Ventures (JVs) in Changshu City (常熟) in Jiangsu Province China, for the manufacturing and sale of ready mixed concrete (RMC). With a total production capacity of 900,000 cubic metres per annum, our Changshu JVs are leading players in Changshu City.
Our Changlong JV has won numerous accolades including "Best Enterprise" from the Suzhou Building Association, "Leader in Construction Industry" from the Changsu City Development Authority, and was awarded the Bronze award by Lu Shan Town government for contribution to the city.
Brief profiles of the above RMC companies are as follows:
Changshu Changlong Concrete Co. Ltd, a joint venture with Jiangsu Jintumu Civil Construction Co. Began operations in 1995 and received ISO 9002 certification in 1998
Changshu Changxin Concrete Co. Ltd, a joint venture with Jiangsu Jintumu Civil Construction Co. Started operations in year 2001
Changshu Changyin Concrete Co. Ltd, was formed in December 2003 with Changshu Chang Yin Shi Ye Ltd Co