Investments
HI-TECH AND TRADITIONAL INVESTMENTS
The Group's direct investments and investments in venture capital funds are primarily made through its investment entities Juniper Capital Ventures and e-Invest. This spans across the following industries:
Information Technology
Mobile Applications
 Consumer Internet
 Software As a Service
 Cloud and Enterprise Infrastructure
Our high-tech investment activities focus primarily in the U.S. (Silicon Valley and Boston), where technological innovations have found great commercial success. In tandem with the growth of the U.S. venture capital industry, our investments have extended to cover Austin, Texas; Pittsburgh, Pennsylvania and the North-Eastern Seaboard of the U.S. Besides the U.S., this division also has investments in the Asia Pacific region too.
Over the last 20 years, the Group has developed close relationships with General Partners of venture-capital fund managers and technology entrepreneurs. The Group contributes as a value-add investor by providing business linkages and opening doors for our fund's portfolio companies into the Asian market. Venture funds which we have invested in include Charles River Ventures, SEAVI, Adams Capital Management, Horsley Bridge and Knightsbridge.
We would co-invest with our VC funds selectively, and some of our investments include RF Micro Devices Inc, TransSwitch Corporation, Kalpana (Cisco Systems Inc), Axsun Technologies Inc, and local startups like Green Koncepts and Runsocial.and QT Vascular.
Through our venture capital activities, the Group has early visibility into new technologies that might fit into the Group's diversification plans or Singapore's technology roadmap. Hence, through our established venture capital and business networks, we seek to introduce best-of-breed technologies from our related investments into Asia. Simultaneously, we leverage our investment knowledge to explore new business opportunities for the Group.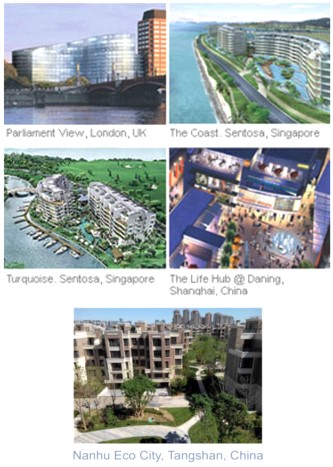 EnGro also has investments in property developments. In 1997, we collaborated with Ho Bee Group to develop a luxury apartment, known as Parliament View in London. This successful collaboration resulted in development of other projects, e.g. The Coast and Turquoise in Sentosa Cove, Singapore, The Life Hub @Daning in Shanghai, and Nanhu Eco City in Tangshan, China.