EnGro Green Initiatives
Pursuant to our believe in Green, we continue to strengthen our green initiative which we planted the seeds more than a decade ago. In recent years, the fruits of our green initiative germination has begun to reap good results and gained acceptance.
In Singapore, sustainable construction using Singapore Environment Council's or Singapore Green Building Council's certified green cement and green concrete helps green buildings reduce a significant portion of the building's embodied carbon emissions.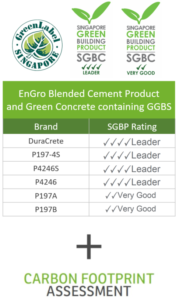 Eco-Labeling
The use of low-carbon ground granulated blastfurnace slag (GGBS) enables our range of blended cement products to be low carbon when compared to the conventional Ordinary Portland Cement (OPC). Hence, it was no surprise to us that in 2011 our low-carbon range of blended cements was recognized by the Singapore Green Building Council ("SGBC") with the Singapore Green Building Product ("SGBP") label accreditation. The SGBP accreditation bestowed was up to the highest rating of "4 ticks" or "LEADER" rating signifying the eco-friendly achievement of some of our low-carbon range of blended cements. These high ratings lend support to our customers to score the highest points accorded by the latest BCA Green Mark scheme.
Using Carbon Footprint to Promote Low-Carbon Material Use
In 2011, we engaged A*STAR's Singapore Institute of Manufacturing Technology ("SIMTech") to quantify the greenhouse gas (GHG) emissions occurring at each stage of the life cycle of our products within the specified system boundaries – "Cradle-to-Gate". The carbon footprint quantification was conducted on the basis of the life cycle assessment standard, ISO 14040/44, and the product carbon footprint assessment guideline PAS 2050.
The assessment results will enable EnGro to develop better understanding on the true emission sources in our manufacturing processes and operating activities. Based on the findings of this study, EnGro will improve upon the carbon footprint of the current production through better resources efficiency and promote the corporate social responsibility to our stakeholders and shareholders.
Successful implementation of ISO 14001 and ISO 45001 standards
ISO 45001 – Occupational Health and Safety Management Systems
EnGro's focus in building sustainability also means that we are a firm believer in preserving and enhancing our staffs' wellbeing with a balanced view on safety and environment impact arising from our various operational activities. Since 2012, the Group's Singapore operations obtained the ISO 14001 and OHSAS 18001 certification. This included EnGro Headquarter premises, Pulau Damar Laut bulk terminal facility and Top-Mix Concrete batching plants.
OHSAS 18001: 2007 (Occupational Health and Safety Management Systems) is an International Occupational Health and Safety Management System specification. EnGro and its subsidiary attained the certification in the third quarter of 2012 and certified by TUV SUD Singapore. By being OHSAS 18001 certified, EnGro's Singapore operations is committed to hazard identification, risk assessment and determining controls, legal and other requirements. In 2020, the Group has successfully migrated OHSAS 18001 to new ISO 45001 standard.
ISO 14001 — Environmental Management System
ISO 14001 is an internationally accepted standard that provides a framework to put in place an effective environmental management system. The standard is designed to address the delicate balance between maintaining profitability and reducing environmental impact. EnGro's commitment to health, environment, safety and security culminates in the implementation of the ISO14001 Environmental Management System standard. The implementation of ISO 14001 standard is expected to enable us to better manage environmental management with focus to reduce waste as well as energy consumption and improve efficiency to reduce operational cost. While we continue pursuing operational excellence, we commit to being responsible corporate citizens and not forsaking the environment.
Pilot Adopter of ISO 14064 Standard
EnGro participated in the pilot project supported by the Singapore Manufacturers Association (SMa) and Spring Singapore to encourage companies to adopt and implement greenhouse gas emission reporting standards aligned with the reporting methodology found in the ISO 14064-1:2006.
Being the pilot adopter to implement ISO 14064, EnGro undertakes the organizational accounting and reporting of value chain Greenhouse Gas (GHG) emissions related to our Singapore based operations.
Achieving Carbon Neutrality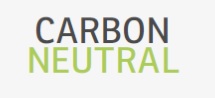 In tandem with the carbon footprint assessment conducted in accordance to ISO 14064 standard, EnGro has further committed to the PAS 2060 certification as proof that EnGro has achieved carbon neutrality by offsetting our company level carbon emissions. By achieving carbon neutrality, it helps us cascade a top-down message to all employees on the importance of carrying out the company's activities in a way that allows a balance between commercial and environmental considerations. This is what we mean by a balance between "People, Planet, and Profits".
Green Alliance

In 2010, EnGro initiated Friends of Building Sustainability ("FBS") to help our peers understand and be updated with the sustainability trend. This independent platform enables practitioners from different industries to exchange information, experience and new ideas in the adoption of green.
FBS with the support of Singapore Chinese Chamber of Commerce & Industry (SCCCI) jointly organized a seminar that discussed how cost effective low-carbon building materials could meet the growing needs of Singapore. The seminar aimed to spread the message that green materials such as Green Steel and Green Concrete are viable alternatives to the conventional building materials for use in public and private green building projects.